How NOT to deal with negative comments
Not everyone will like you. And even if some leave negative comments, whether it is on your Facebook page, your blog, or a forum, there are ways to deal with criticism. And there are things you should NEVER do, no matter what. Here is an example.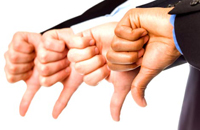 Today, I found this review, where the book was given a grade of 2 out of 5 stars. The author Jacqueline Howett commented and the article got more than 300 comments. Here are a few comments left by the author:

These comments really show a real lack of tact and professionalism from the author. By reacting impulsively, commenting on the review first, defending her book "no matter what" and calling the reviewer "rat" and "snake", Jacqueline Howett managed to damage her reputation.
Swearing at your potential customers or  even speaking with sarcasm as was shown in the Nestlé fiasco is NOT the right way to go. In social media, comments are for everyone to see and news spread quickly…very quickly…
Here is a couple of things you should do when you receive negative comments:
Stop and think for a second: are the comments justified? Do people have a point? What is the best way to respond?
Don't take it personally: it is not YOU the person is judging, but a piece of your work at a point in time.
Don't delete the comment: it is an easy way out. This doesn't make the problem disappear.
Think about what kind of comment it is: is it a spammer? constructive criticism? merited attack?
React quickly: respond to the person online, but preferably try to take it offline as quickly as possible. Dealing with things by email will be easier for both of you. Avoid making a comment into a 10-sub comment thread, unless you think it will be valuable to other customers.
Brainstorm: if you work in a team, don't hesitate to ask for your colleagues' opinions and advice.
STAY POSITIVE: the view of one person/customer doesn't reflect the views of your whole customer base.
Knowing how to deal with negative comments is important in social media. Only say things you would feel comfortable saying in front of a large crowd offline.
What do you think of this example? How do you deal with negative comments?