Pizza Hut Singapore Facebook Page Looks Too Good To Be True…
Social Bakers just released their quarterly social media report on Singapore Facebook pages. One interesting metric they introduced is called "Top 5 brands by daily page engagement rate". Let's have a closer look and I'll explain why I think the Pizza Hut Singapore Facebook Page looks too good to be true…
Here is the full report if you want to take a look at it.
The top 5 brands by daily page engagement rate are NTUC Membership, HTC Singapore, SingTel, KFC Singapore and Pizza Hut Singapore.
NTUC Membership has a mix of questions, "brand love" declarations and complaints – the sign of a very healthy Facebook page.
HTC Singapore doesn't allow fans to post on the wall – instead, when they have questions, they need to comment on the status update. I don't think this is a very smart move, as I have talked about it here and here. It's important to allow your fans to express themselves on your wall – even criticism can be good if you respond quickly and provide a solution: this is a sign of good customer service.
On SingTel fanpage, customers mostly post about their problems with the service but the SingTel social media team tries to answer customers' complaints even though I am not sure whether they follow up when more comments are posted, as those examples show.
KFC Singapore has a mix of complaints, suggestions, "brand love" declarations – their page is very similar to NTUC Membership.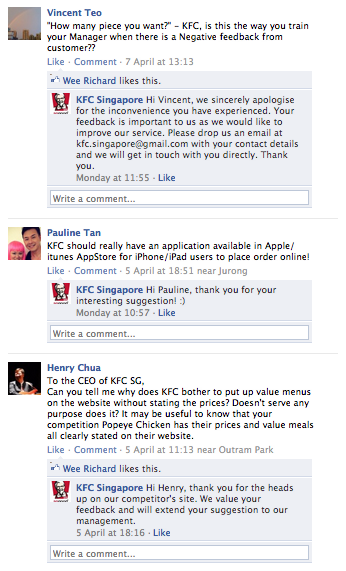 Last but not least, Pizza Hut page is VERY VERY strange. Either Pizza Hut deletes every single negative comment or they pay their fans (voucher, discount, etc) to comment on the page. I haven't seen a single complaint for months and let's face this, this is a fast food chain, they must screw up from time to time. The comments mention the branch, the name of the waiter or waitress and here as well, I feel skeptical that people would ALL remember their waiter/waitress name unless they are ASKED TO.
One thing I noticed is that these "overly positive" comments have been going on since January. Since then, all the negative comments seem to have disappeared! And yet, when you look back, customers weren't too happy in November or December…
Pizza Hut Singapore (yes I'm talking to you!) – have you suddenly dramatically improved your service or is there another explanation behind this?
What do you think? Is Pizza Hut paying its customers to post positive reviews? Are they deleting negative comments? Let me know your thoughts on this!