How to fix the Facebook display problem in Chrome
This has been driving me crazy for weeks. To display a page on Facebook, I've had to open it on Firefox or Safari. Pretty annoying when all of your tabs are open on Chrome, right?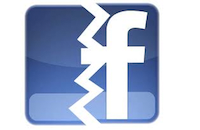 There are numerous threads on the Google support website about the problem, with a lot of complaints and very few answers. No, clearing my cache or my browsing history did not work. And yes, Facebook worked perfectly in incognito mode.
How to fix the display problem
1) Make sure you're running the latest version of Chrome.
2) Go on Facebook
3) Zoom in (View > Zoom In or Ctrl  + [+] on PCs or Command + [+] on Macs)
4) Refresh the page
5) Congrats, you have fixed your display problem!
Hope this will help a few of you out there!