Dear inspiration, where have you gone?
Earlier this week, I read that the difference between a good and a bad writer had nothing to do with style nor skill but with PERSEVERANCE. It is actually a good article to read.
Perseverance: the quality of continuing to try to achieve a particular aim despite difficulties.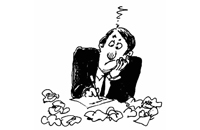 And difficulties are everywhere! I want to write, but I just don't know what to say. The disease has a name, it's called writer's block. I have already Googled it, and I am afraid to say that I have all the symptoms.
So here is the shortest blog post ever: what happens when you cannot find anything inspiring to blog about?
Do you still stick to your schedule, trying to publish a post no matter what?
Should we really try to publish blog posts regularly? Why?
I will update the post once I have found answers to these questions myself.